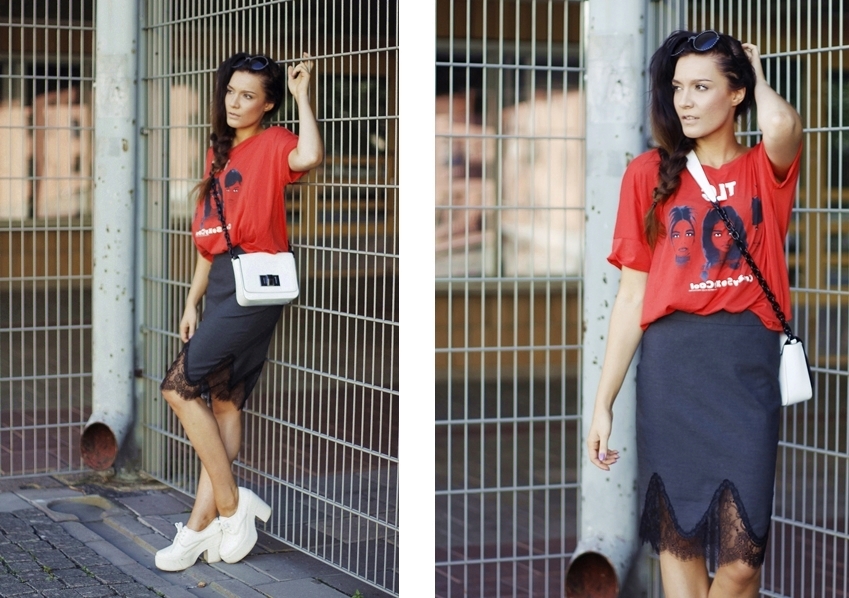 tee H&M | skirt ZARA | shoes ASOS | bag MANGO | shades MONKI
Mä en ta-ju-a.
Mulla on ollut joku ikimuistoisin ja onnellisin kesä vuosikausiin, mutta samalla oon sairastellut ehkä eniten päiviä yhteensä, kuin mitä aiempina kesäkausina. Tai ylipäätään ikinä tällä tavalla putkeen. Tälläkin hetkellä yritän edelleen toipua pari viikkoa jyllänneestä angiinasta, kun ei toi pöpö piru vie vaan meinaa tajuta jättää meikäläistä rauhaan. Aikamoiset tepposet mun immuunipuolustus tehnyt kyllä mulle tänä kesänä, hmpphh >:/
Sattuneista syistä, näiden(kin) kuvien otosta on jo pieni ikuisuus

(tukankin värissä

tapahtunut

pientä freesausta tällä välin)

ja kelailinkin, että kannattaako näitä "vanhentuneita" otoksia enää edes julkasta. Päätin kuitenkin, että mun kesän hauskimman aleostoksen, eli yyyber coolin "ysäribändipaidan" tähden kyllä. Pliis, sanoohan TLC vielä jollekin jotain, vai oonko mä ainut "ikäloppu" täällä? No, niille joilla lyö ihan täyttä blancoa kyseessä on siis kultaisen 90-luvun katu-uskottavin (ja paras) tyttöbändi, vähän niinkuin bad assimpi versio Destiny's Childista, vois melkein sanoa. Paidan etumusta koristaa siis poppoon varhasemman CrazySexyCool -levyn kansikuva, vaikka henkilökohtaisesti oon sitä mieltä, että varsinaiset helmet (No scrubs, Unpretty, Silly Ho, I'm Good at Being Bad) löytyy kyllä uudemmalta Fanmail-albumilta :D Oikeesti, fanittaisin näitä ihan täysiä jos tekisivät vielä musaa yhdessä. R.I.P. Lisa "Left Eye" Lopes. Pakko kuunnella vielä kerran No Scrubs

(ehkä ainut biisi, jonka koen osaavani niin moitteettomasti, että voisin ja jopa HALUAISIN vetää karaokessa, mwahah)

.
ps. oon mä oikeesti jo vähän ruskettunutkin, enkä ihan noin Kasper kummitus enää -___-
Right, sooo who still remembers TLC? the coolest and the most street cred girl band from the golden 90's? Well I sure was a fan of this "bad ass version of the Destiny's Child" group and still am actually, listening to their album Fanmail as we speak (or write, ha). Of course No Scrubs was probably their biggest hit that everyone knows them of but I think the whole album is actually pretty damn good. Oh, and the reason for all this nostalgia is the super duper dope ninetees vibe band shirt I'm wearing which has the group's CrazySexyCool album cover print on it. It was on sale and had to get it for good old time's sake :D Lol, I sound like a grandma. Don't care. Gotta listen to No Scrubs again. R.I.P. Lisa "Left eye" Lopes.